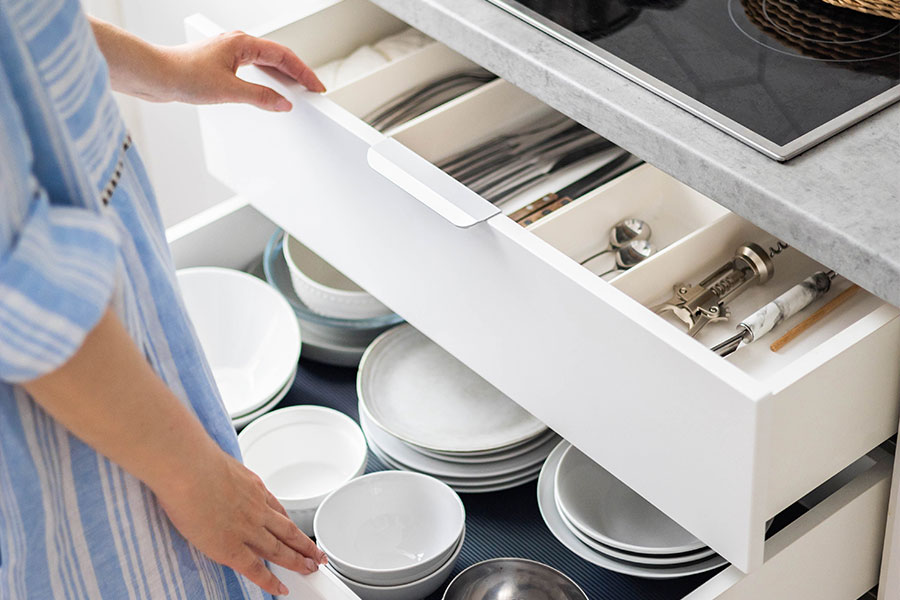 Photo: Kostikova/Getty Images
Easy Decor Refresh: Creative Tips for a Well-Organized Home
BY Viia Beaumanis
| March 6th, 2023
There's truth to the classic maxim, "a place for everything and everything in its place." And it's not just what is visible. Even if you can't see it, the awareness that what's out of sight — tucked in cabinets, closets and drawers — is tidily arranged, is as beneficial to your headspace as it is to the actual space. That said, when taking on a Marie Kondo-style purge, knowing where to begin can be daunting. With spring just around the corner, here are some tips for getting your key spaces organized, as well as what to do with household goods that are no longer "sparking joy."
Zone In
Attacking too much at once can be overwhelming. Instead, choose a space and focus on one area at a time. Feeling daunted? Drawers are a great place to get your purge on as these more contained endeavours offer the satisfaction of organization on a micro-level that can prove motivating for your larger, full-room assaults. Go room to room, from that unruly socks and knickers drawer and the kitchen junk drawer full of everything from rubber bands and take-out menus to parking tickets to the melange in bathroom cupboards and drawers, eliminating any scarcely used or expired products. Take everything out, wipe the area clean, then decide what goes back in. Order some clear drawer organizers. They make a world of difference.
The Living Room
Bear in mind that the perception of clutter can be as much about what you have in the room as how you're presenting it. If space is limited, incorporate furnishings that do double duty as hideaways: an ottoman with a storage compartment, a blanket chest employed as a coffee table or bench. Place items you'd like close at hand, but out of site, as well as seasonal things in these: puzzles and board games, extra throw blankets and candles, etc. If you have the wall space, add shelves and line them in rattan or cane baskets. Floor to ceiling looks great and can be done expensively, but even two or three floating shelves can make a huge, very attractive, difference to your main space storage capacity while keeping everything tidy and handy.
With everything tucked away, consider what you want to keep on display. Avoid a jumble of bibelots on surfaces — coffee table, credenza, shelves and mantle. Get rid of the odds and sods. If you collect anything, arrange these items in one place, by type, not scattered about the room. All the brass here, all the glass there. Objects have more impact when grouped — ideally, in odd not even numbers. Sofa throw pillows and blankets needn't match but must go with each other and the overall scheme of the room. Invest in new covers, if needed. Choose one palette, then vary on texture. Plant lover? Pop your green into co-ordinating rattan baskets or ceramic pots. HomeSense, Marshalls and Winners offer a wide and very reasonably priced selection.
Keep symmetry in mind. A pair of matching lamps on each end of a wall table or credenza balances the look. A panel of frames — large trio or grid of smaller pictures — frames the wall or sofa as well. Windows with matching curtains and blinds lend flow and continuity to a room. Painting the walls, ceiling and trim the same colour — known as 'colour drenching' — creates a visually calming, continuous backdrop that envelopes your decor, rather than competes with it.
The Kitchen
A space with more drawers and cupboards than most rooms, we often accumulate duplicate and hardly-to-never used appliances and paraphernalia here. Again, pull everything out. Lay it by group on the kitchen counter, island, dining table or floor. Wipe down the cupboards and drawers, then decide what goes back in. Think about roll-out drawers. They're easy to install and mean no more digging around in the back of the cabinet for the Cuisinart behind the popcorn maker and blender. Organize things — fridge and cupboards — in clear bins. These not only keep things visually tidy they also stack, which allows you to tap unused vertical space. Now, what to get rid of?
Excess: Too many spatulas, five veggie peelers, excess pots, any non-stick pans that have seen better days. Choose what you actually use and nix the extras.
Unused: The platters you got for Christmas but don't really care for, the bread or pasta maker you thought were a good idea at the time. Sell or donate.
Shouldn't Be Used: Any chipped plates, mugs and bowls from your everyday china selection. Toss and replace.
Useless: Go through your food containers and toss those without lids. Neatly nest the rest, Russian Matryoshka doll-style to create space. Better yet, order a stash of recyclable Stasher storage bags. While a bit pricey, they pay for themselves when balanced against the cost of endlessly replenishing boxes of disposable Ziplock bags. In or out of use, these silicone bags take up far less space than plastic food bins, are fully recyclable, have no lids to lose and you can bake, microwave, sous vide, boil or freeze food in them, so they're both cooking utensils and storage containers.
Redeem & Recycle
Contemplate what you might upcycle, rather than get rid of. The lamps you think you're done with might just need a fresh coat of paint or a new shade. That hodgepodge of mismatched frames in every size and colour you've amassed over the years could, with a little black matte spray paint, make an elegant picture wall. Blow up black and white photos you love or source great art online. There are numerous sites that offer free, high-res downloads that you can have printed — including national museums. The dining room chairs might not have to go — you could just reupholster the seats with an easy DIY.
Sell It
If you are looking to clear out some furnishings, Facebook Marketplace is a great place to unload preloved goods. Unlike doffing goods at a second-hand shop, you keep the entire profit and it's a safe place to retail since you have the profile of whomever you're selling to. Items that fetch a pretty penny include any honest-to-goodness antiques or quality wood furnishings, from wardrobes and hutches to blanket chests, trendy mid-century modern pieces (teak furniture to tabletop accents), well-maintained rugs and good-looking sets — from matching end tables and paired lamps to suites of dining chairs. You'll also find a quick turnaround on smaller decor items, such as light fixtures, that are easy to pick up. Another arena is niche collectables, which range from vintage glass ashtrays that (most) people use as key and coin catch-alls these days to stuffed birds and antique china or glassware. Vet any unusual, rare or oddball goods you may have against an array of online resellers, 1st Dibs to eBay, before you price it.
Donate It
If you want to give things away, our trusty go-to is The Salvation Army. They donate every penny to good works, offer free pickup on more than three items of furniture and provide detailed annual impact reports that account for how donated goods are utilized to fund their numerous charitable efforts.
Do you have something in your own collection that you think might be worth a few bucks? Looking to buy or sell? Browse the Zone Classifieds and post your ad here.