Co-Housing and Dementia Villages: Social Innovations Offer Alternatives for Long-Term Care
With the right model, Canada's LTC can become a seamless, human-centered system that helps senior citizens get the care they need. Photo: fzant/Getty Images
While retirement homes exist, for many the costs are out of reach — so some are choosing co-housing.
Louise Bardswich is a retired college dean and co-owns a home in Port Perry, Ont. She and three other women pulled their resources together to build a shared home.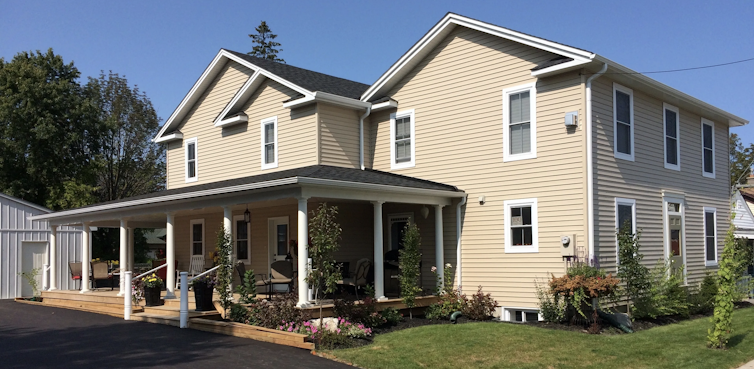 Their home features design elements that will allow them to age in place — like wheelchair accessible bathrooms, a spacious kitchen and a guest room that can be used for a live-in caretaker. The housemates pool their resources to cover costs, Bardswich estimates her monthly costs at $1,100.
While $1,100 is not affordable for everyone, its considerably cheaper than a LTC facility in Ontario — the long stay semi-private option is $2,280.04 per month.
According to Dr. Nowaczynski, House Calls serves 450 seniors with an average age of 89. "We make it possible for our patients to live out their days at home and die at home," he says.
Dr. Nowaczynski estimates that in Toronto there are 100,000 to 150,000 seniors who would benefit from home-based primary care. Between House Calls and other programs, "We're probably meeting the needs of not even two per cent of that population. So, we are barely scratching the surface and the consequences of that are that there's a large population of seniors who are receiving inadequate ongoing care."
Providence Living in partnership with Island Health will open Canada's first publicly funded dementia village care model in Comox, B.C. With construction starting this year, it will feature smaller households that support freedom of movement, access to nature and connection with the community.
Candace Chartier, president and CEO of Providence Living, explains that this village concept is not just about the physical design but encompasses a shift in the model of care in which residents, staff, family members work together to create a home environment where residents can thrive.
These examples show potential for the future of LTC in Canada — the challenge is to make them the new standard of care instead of a patchwork of services that result in wait lists, drive-up health care costs and create confusion for seniors and their caregivers.
Canada's LTC can become a human-centred system that helps seniors get the care they need. But first we need to make humane, dignified care for seniors a top priority.

Sarah Tranum, Associate Professor, Social Innovation Design, Faculty of Design, OCAD University
This article is republished from The Conversation under a Creative Commons license.