Hazel McCallion, Mississauga Ontario's longest serving mayor, died at the age of 101 on Sunday.
Premier Doug Ford announced McCallion's death in a news release Sunday morning, expressing his admiration for the political powerhouse.
"Hazel was the true definition of a public servant. She dedicated her long life to her community, including 36 years as mayor of Mississauga — the longest serving mayor in the city's history. She led the transformation of Mississauga into one of Canada's largest cities. Hazel's mark on her community can be found in the many places and organizations that bear her name, including the Hazel McCallion Line," he said.
According to Ford, McCallion passed away peacefully at her home in Mississauga.
"I count myself incredibly lucky to have called Hazel my friend over these past many years. As I entered the world of politics, I was fortunate enough to learn from her wisdom and guidance, which she selflessly offered until the very end."
McCallion, also known as Hurricane Hazel, left her mark on this publication as well, becoming the oldest ever to grace Zoomer's cover in 2019.
Here, we revisit that cover story, in which McCallion chatted with us about her early career and the mark she left on the city of Mississauga.
A dark Mercedes rolls into the parking lot of the low-rise office building, one of many such squat utilitarian edifices that dot the landscape in this rather bleak stretch of Mississauga, Ont.
Unfazed by the frigid wind blowing off Lake Ontario, a tiny old lady nimbly emerges from the car, navigates the icy patches and walks briskly toward the office. As she enters, the receptionist greets her warmly and hands off a cup of fresh coffee, liberally whitened with cream.
Ninety-eight–year–old "Hurricane" Hazel McCallion, or Madam Mayor as she still prefers to be addressed, is ready to face whatever new challenge this day may bring.
Her first point of order this morning is dealing with a blow-dryer-wielding stylist zealously trying to glam her up for the Zoomer photo shoot about to take place in the boardroom. McCallion demurs at the primping and, using a tone that served her well during her days as mayor of Mississauga, makes it clear to everyone in the room that she's the boss: "I want the camera to capture who I am."
Capturing Hazel McCallion's very public persona has never been difficult. Perhaps the most towering figure in Canadian municipal political history, in more than 36 years as mayor, she oversaw the transformation of Mississauga from a comatose commuter town west of Toronto into the sixth largest city in the land.
A retail politician beyond compare, McCallion became famous for showing up at every event, kissing every baby and cutting every ribbon. She was accessible to all, ran a debt-free government and always delivered value for taxes (which she seldom raised). Her no- nonsense and outspoken manner – imagine Don Cherry as your mayor – flamboyant photo ops, confident manner, ridiculously long work hours, boundless energy and uncanny ability to get projects through City Hall in time and under budget earned her that tempestuous moniker – Hurricane Hazel.
While the City that Hazel Built encompasses all the imperfections of North American suburbia – it's a sprawling acreage of residential housing, strip malls and stumpy office buildings intersected by four-lane throughways – it does have its virtues: affordable housing, a Living Arts Centre, a big arena, soccer
fields, baseball diamonds and libraries all with ample parking. Every one of those houses, condos, office buildings, parks and municipal facilities, including those not named after McCallion, have her fingerprints all over them.
Her go-to mantras while building Mississauga were: "Run the city like a business" and "Do your homework," the latter she learned from her boss at one of her first jobs at an engineering firm.
"It didn't matter if it was the CEO of a big company or major developer, if you came unprepared to a meeting with the mayor, she would send you packing," laughs David O'Brien, Mississauga's former city manager and long-time friend and fishing partner. O'Brien recalls the time a reporter showed up at McCallion's office looking like he had just rolled out of bed. "Are you here to do an interview?" asked McCallion. "Go home and get dressed properly."
McCallion sprang to fame for her handling of a major catastrophe – in 1979, a train carrying dangerous chemicals derailed in Mississauga, and she presided over the evacuation of more than 200,000 residents. Her real genius lay in the shrewd way she managed a building boom that detonated during her time in civic office.
She insisted that "developers must pay their way" through a levy that companies had to pay to City Hall in order to build. O'Brien admits that charging development fees was a controversial concept that received a great deal of pushback. But they helped the city pay down its debt and build facilities families needed. "Now every municipality does this," says O'Brien. "But we were leaders in this field."
"She was able to tap into the building boom and play it for what it was worth," agrees John Capobianco, a political strategist who grew up in nearby Etobicoke and watched McCallion's legacy unfold. "As people started seeing the city evolve, they responded at election time." From 1978 to 2014, she easily won 12 consecutive elections before finally relinquishing her keys to the city at age 93.
A colourful local phenomenon, for sure, but far more than that, says Capobianco. Because she wasn't affiliated with any party, "politicians of any political stripe, federal or provincial, would court her. If you wanted anything done, you needed Hazel on side."
Over time, as her influence spread to all the suburban communities surrounding Toronto, she morphed into a kind of super-mayor to what became known as the 905, effectively creating and serving as powerbroker for one of the most powerful voting blocs in the country.
Since every superhero, mayor or otherwise, has an alter ego, I visited Madam Mayor three times in an effort to discover hers. Who is the real person behind the public figure, and how is it that, after 98 years on earth, this Hurricane is still blowing strong?
To say that McCallion defies age is to understate what's going on here. She confronts aging head on, ducks its mightiest blows and, seemingly with ease, knocks it flat on its ass.
Trampling the notion that one's advanced years must also bring decline seems almost unnatural to everyone but Hazel. Her old age has been one of health, activity and taking on new challenges rather than illness, loneliness and despair as the stereotype suggests.
As she jogs back and forth between the boardroom and her office at the Ontario Women's Hockey Association (OWHA), it becomes apparent she hasn't suffered many outward signs of physical decline.
Although a little hard of hearing and slightly stooped, she doesn't wear glasses or use a walking aid. Her mind is razor sharp; she can recall names and events instantly without pausing or consulting notes. She takes no medication, other than a daily Aspirin and a shot for mild osteoporosis. A recent fall while lugging wood to her fireplace left her undaunted: "My bones are pretty strong."
When I quiz her about this seemingly miraculous run of health and longevity, she points back to her formative years, growing up with her two brothers and two sisters (all deceased) in Port Daniel, Que., a small village of 1,500 on the Gaspé Peninsula. Here, her parents, Armand and Amanda Journeaux, owned a fish processing plant and ran a small farm as well.
Born in 1921, the youngest of the Journeaux brood, she grew up in an Anglican household in the midst of a global depression, which instilled in her the values she carried with her throughout life: the Protestant work ethic, spending money wisely and eating lots of fish. 
"I ate a lot of fish growing up. I still do," she claims, adding that her organic diet of farm-raised vegetables and meats washed down with unpasteurized milk "helped me be healthy, to get a good start on life." Plus, she was always active, playing hockey with her brothers and sisters, which inculcated a life-long passion for the game. She even parlayed those early pond-hockey games into a source of income; after landing a job in Montreal, she played in a three-team women's professional league, earning $5 a game. 
However, McCallion's bursting good health today goes far beyond the positive benefits of childhood diet and exercise. "I have everything I was born with – tonsils, appendix, etc.," she says proudly. She can count on one hand the visits she's made to hospital: to deliver her three children and, oh yeah, that time in 2003 when she was hit by a pickup truck. "The police chief and the fire chief showed up, and they wanted me to stay overnight. I said, 'I don't have to. I have no pain.' " In the end, they prevailed – one of the few times Madam Mayor did not get her way.
Now, we've all had that age-defying aunt who still plays the stock market, thinks nothing of driving to the cottage or can whip anyone at Scrabble. But, by this point, they're usually beset by one of the physical or cognitive ailments that comes with age. And they don't often consult for major corporations.
Since 2015, McCallion has been doing just that, working for Revera, a forward-thinking Canadian company that owns or operates more than 500 properties around the world that offer upscale housing, care and services for 50,000 seniors. As the company's CEO – Chief Elder Officer – her duties include travelling to various Revera-run homes, boosting the morale of staff, chatting with residents and reporting their concerns back to the operator.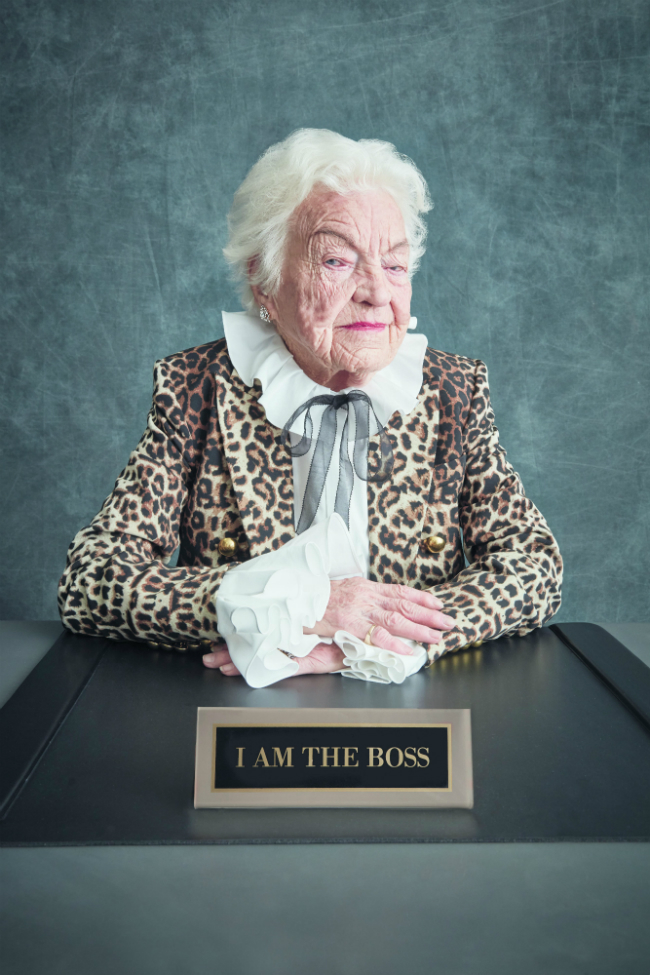 "Oh my God, she walks faster than I do," says an awestruck 20-something employee as the mayor strides into the foyer of Revera Trafalgar Lodge in Oakville. After a brief chat with staff, she goes to meet a throng of residents gathered in the Lodge's nicely appointed dining room. Refusing the chair that's offered, she paces in front with her microphone, working the room as effortlessly as she did while still in office. Her message, while not particularly original, is warmly received: don't give up your independence, don't refuse any challenge and live life to its fullest.
McCallion is not simply spouting a tired slogan – this is her blueprint for success later in life. Consulting with Revera is just one of her many gigs. That morning, before her talk, she had met with a group of female truck drivers ("Women with Drive"). She also sits on the board of directors of Pearson Airport, is the Honorary Guardian of hospitals in Mississauga, advises to University Toronto's Mississauga campus, advocates for women's hockey and consults with charitable, corporate and government bodies too numerous to mention.
When I asked her if the issue of her age is ever raised in the boardrooms, she brushes it off with a flat "Nope" before adding, "Some of my most productive years came after I turned 65." Plus she's got something valuable that organizations crave. "I have experience – especially political experience – which they find essential."
Watching her leaf through her daily agenda (she's decidedly old-school in her choice of personal planners), it doesn't appear there are any open dates. Clearly, many companies and organizations want to tap into her experience.
"She gave up one job as mayor to take up six more," marvels Fran Rider, president of the OWHA, which governs the sport in the province. Rider is eternally grateful for McCallion's help working phones, getting sponsorships and always promoting women's hockey, transfroming it from obscurity into the global sport it is today. Until recently, she would break out the skates and stick when the opportunity arose.
"I think she may have sped up since she retired," says Rider, who likes to envisage the younger McCallion as a fast and feisty hockey player. "She's got more energy for the future than she's ever had. She wants to do more and more and more." Like zip-lining in Italy in her early 90s or scaling the wall at a local rock-climbing centre mere days before her 98th birthday. (A video of her ascent to the top went instantly viral.)
McCallion is so busy, in fact, that earlier this year she turned down a job offer from Ontario Premier Doug Ford to work as a special adviser on housing, citing "my extensive commitments" as the reason. While she doesn't have time for a government job, politicians still seek her opinion. In 2015, a political ad featuring her endorsing the Liberals' senior platform helped the party capture the all-important 65-plus demographic and win the federal election. And the day before one of our meetings, she had a luncheon with a current federal cabinet minister, who wanted to pick her brain on the thorny immigration issue.
To squeeze in all her business, political and charitable commitments, not to mention her ceaseless speaking requests, McCallion has little choice but to maintain the same 15-hour workdays she became legendary for at city hall. Unlike then, she handles all her own scheduling – she doesn't have an assistant.
"When she was mayor, she didn't hesitate to phone me at 6:30 in the morning — she'd been up since five!" remembers Maja Prentice, a long-time member of Mississauga City council during McCallion's endless run. "She's still the same way. She has boundless energy. I can't get over it. She still looks after her house. I don't know how she does it all on her own."
I visited McCallion at her home on the end of a quiet crescent, a comfortable, unostentatious dwelling she shares with her gimpy 12-year-old German shepherd Missy (short for Mississauga, of course).
She's been flying solo since her beloved husband, Sam McCallion, died in 1997 after a dispiriting battle with Alzheimer's. The two met in the early '50s in Toronto, after the then Hazel Journeaux had been transferred from Montreal to Toronto to run the office of an engineering firm.
The pair were introduced at a gathering of the Anglican Young People's Association, of which Hazel, naturally, was president. (McCallion is still a practising Anglican and very involved in her local parish.)
A match obviously made in heaven, her eyes light up when I ask about Sam. "He was a very kind gentleman. Extremely thoughtful. He was a good father to our three children and very well respected in the community."
A photographer and printer, Sam ran the community newspaper in Streetsville, a small community the couple lived in that was ultimately swallowed up by Mississauga. Sam's newspaper helped spur Hazel's interest in local politics, where she eventually ran for deputy reeve (the small-town equivalent of mayor). And from then on until his death, Sam was a tremendous asset to her career: "We worked extremely well together. He was always supportive and loved to go to the events with me. And the people loved to see him. He never interfered with politics."
With Sam helping in the background, she went on to become the most honoured and successful female politician in Canadian history. And though she's a big advocate for the advancement of women in the workforce, she eschews adjectives like "trailblazer" or "pioneer."
She does, however, relish telling me about one early run-in with political chauvinism. Before a candidates' debate during her first run as mayor in 1978, incumbent Ron Searle was asked if he'd go easy on his opponent. "My instinct is to hammer the hell out of her," Searle told a reporter. "But I can't really do it. I'm really inhibited by the fact that she's a woman."
"That was the mentality back then," she laughs. "And that killed him." Searle's comment galvanized women voters, McCallion won the election and she never looked back.
When I ask her if she had any regrets from her political career, she doesn't seem to understand why I'd ask such a dumb question. After I gamely persist, she grumbles a few disappointments: failing to build a convention centre or expand local transit.
I was really hoping she'd talk about the conflict of interest charges that occurred during her later time in office – where she was accused of passing amendments that might have benefitted her son Peter's development company. The charges, which were dismissed by a judicial probe, had zero affect on her popularity: in the 2011 election, at the height of the controversy, she captured 76 per cent of the vote; her closest opponent managed just seven per cent. 
Although she deals with the incident forthrightly, devoting a chapter to it in her co-authored autobiography, Hurricane Hazel: A Life With Purpose, looking back on her long life is not her forte. Like most high achievers, she doesn't have time for reflection or self-introspection. Even at 98, she's obsessively focused on the future.
When I took leave of McCallion for the last time after her speech at the retirement residence, she was chatting with Oakville Mayor (and former acolyte) Rob Burton, posing for pictures with staff and chatting to residents. Watching her discuss complex municipal issues with Burton, especially after she had so expertly worked the room earlier that afternoon, made me wonder why she ever retired from politics.
"I felt I had brought the city to the point where it was time for someone to take over with new ideas. I always felt you should leave a job when you're at a high peak," she offered after some pause. But because it marked the only time in our three meetings where she hesitated to find the right phrasing, it certainly sounded like she was trying to convince me – or more specifically, herself – that she had chosen the right time to exit the political fray.
Seriously. Why couldn't she make one more run and become the world's first 100-year-old mayor? Wouldn't that be a great podium to show the world what modern aging is all about? Then it dawned on me. It goes without saying that, even at her advanced age, Hazel McCallion has the fitness, fight, energy, drive, passion, expertise and tenacity to be a game-changing political force.
But she's been there and done that. She's got other challenges to face, puzzles to solve, people to meet and walls to climb. As always, she's looking forward to the future, not the past.
Besides, she simply doesn't have the damn time.
A version this article appeared in the May 2019 issue with the headline "Hurricane Hazel," p. 30.