Recipes: St. Patrick's Day Celebration From an Irish Chef
Photos: Courtesy of Guiness
From the classic Irish soda break to a twist on the classic chocolate cake (Hint: just add a pint of Guinnes!), take these recipes from Irish chef and cookbook author, Clodagh McKenna, author of multiple bestselling cookbooks that focus on Irish home cooking, including Clodagh's Irish Kitchen. She shared a few of her recipes with us when she visited Canada to cook an Irish feast recently.
But before you indulge in McKenna's delicious recipes, take this entertaining tip from executive chef Justin O'Connor at the Guinness Storehouse, direct from Dublin, Ireland.  If you're serving finger foods, such as pigs in a blanket, above, he suggests, why not balance them on a shot glass full of a hoppy lager? In this case, they suggest Hop House 13 Lager, brewed by Guinness. (We've also included a pair of direct-from-the-Storehouse recipes, including a French Onion soup using Hop House 13, too.)
Another tip? Have your Guinness with lobster bites. Or, with dessert. Go ahead, let them eat cake and ice cream – with a beer. Just don't make it green.
1. ROSEMARY SODA BREAD
Makes 1 loaf
INGREDIENTS:
3 cups / 350g wholemeal flour
1 3/4 cups / 200g white flour
1 teaspoon of bicarbonate of soda
1 teaspoon of salt
1 tablespoon of fresh rosemary, finely chopped
1 1/2 cups / 350ml milk
1 cup / 250ml natural yogurt
For brushing
milk and yogurt mix (for brushing)
METHOD:
Pre-heat your oven to 220°C, 425°F, Gas Mark 7.
Sieve the white flour and bicarbonate of soda and salt into a large mixing bowl, and stir in the wholemeal flour. Using clean hands mix the flours, bread soda and finely chopped fresh rosemary together. Make a well in the centre of the bowl.
Whisk together the yogurt and milk and slowly pour into the well of dried ingredients. Using your free hand to mix the flour into the buttermilk, try and spread your fingers far apart so it resembles a trough. Make sure that there are no dry patches and that the dough is completely wet.
Pat your hands with flour and shape the dough into one round. Place on a floured baking tray. Flour a large knife and cut the shape of a cross into the top of the dough about two-thirds of the way through.
Brush the round of bread with the milk and yogurt mixture using a pastry brush, this will give a lovely golden colour to the bread once baked
Bake in a pre-heated oven at 220°C, 425°F, Gas Mark 7 for 25 minutes, then reduce the heat to 180°C, 350°F, Gas Mark 4 for a further 25 minutes. To test whether the loaf is cooked, tap the back with your knuckles; it should sound hollow. Leave to cool on a cooling rack.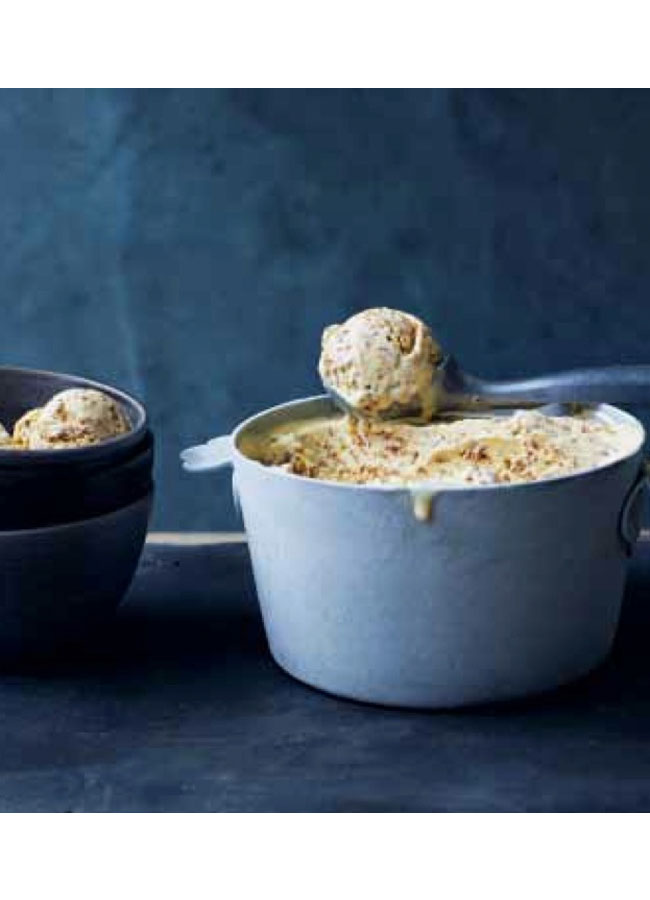 2. IRISH SODA BREAD ICE CREAM
INGREDIENTS:
150g Irish soda breadcrumbs, from at least one day old bread
80g brown sugar
250ml milk
250ml double cream
150g sugar
5 egg yolks
1 vanilla pod
80ml Baileys cream liquor
METHOD:
Pre-heat oven to 180oC/Gas Mark 5.
Place the breadcrumbs and brown sugar in a bowl and mix well. Then sprinkle the sugared breadcrumbs on to a baking tray, and spread out evenly. Bake in the pre-heated oven for about 10 minutes, or until the breadcrumbs are slightly darker and the sugar has melted. Stir occasionally while they are baking. Once they are baked, allow them to cool.
Pour the milk and cream into a saucepan and place over a medium heat and stir in the sugar. Slit the vanilla pod down its length with a small sharp knife and scoop out the tiny black seeds and stir into the saucepan. Reduce the heat, and stir until all the sugar has dissolved, then remove from the heat.
Place the eggs yolks into a large mixing bowl and mix together. Then slowly whisk in the warmed cream and milk mixture to the eggs. Then transfer the mixture back into the saucepan, and place over a low heat and stir until you get a custard consistency.
Remove the custard from the heat and stir in the baileys cream and cooled sugared breadcrumbs. Mix well.
Pour the ice cream mixture into container, and freeze overnight.
3. GUINNESS CHOCOLATE CAKE
MAKES 1 Cake
INGREDIENTS:
For the cake
2 1/4 sticks plus 1 tablespoon unsalted butter
1 1/4 cups Guinness
1 cup unsweetened cocoa powder, sifted
2 large eggs
2 cups plus 2 tablespoons superfine sugar
2 teaspoons vanilla extract
3/4 cup buttermilk
21/2 cups all-purpose flour
2 teaspoons baking soda
1 teaspoon baking powder
For the frosting
7 tablespoons unsalted butter, softened
2 1/2 cups sifted confectioners' sugar
1 teaspoon vanilla extract
1 1/4 cups cream cheese (not low-fat)
METHOD:
Preheat the oven to 325°F. Line the bottom of a 12-inch round springform pan with parchment paper.
Make the cake: Heat the butter in a large saucepan over medium heat until melted.
Stir in the Guinness, then remove from the heat and stir in the cocoa.
In a large mixing bowl, beat the eggs, sugar, vanilla extract, and buttermilk, and then slowly mix in the Guinness mixture.
Sift together the flour, baking soda, and baking powder into a separate large bowl.
Using a handheld electric mixer, slowly mix the wet mixture into the dry ingredients and keep beating until it is all well combined.
Transfer the batter to the prepared cake pan and bake in the oven for about 45 minutes. Test to make sure the cake is cooked by inserting a toothpick into the center of the cake—if it comes out clean, the cake is cooked. Let cool in the pan, then transfer from the pan onto a wire rack.
While the cake is cooling, make the frosting: Using a handheld electric mixer, blend all the ingredients together until light and fluffy.
Place the cooled cake on a plate and generously spread the frosting on top.
4. GUINNESS FRENCH ONION SOUP WITH IRISH CHEDDAR CROUTONS
Serves 4
INGREDIENTS:
3 ozs butter
8 white onions, peeled, halved and thinly sliced
2 garlic cloves, crushed
1 teaspoon brown sugar
12 fl ozs Hop House 13
18 fl ozs good quality beef broth
3 ozs cheddar cheese, grated
4 slices of sourdough bread
sea salt and freshly ground black pepper
METHOD:
Place a heavy bottomed saucepan over a medium heat and add the butter. Once the butter has melted, turn down the heat to low and stir in the onions. Cover and leave to cook for 15 minutes, stirring every five minutes.
Next stir in the sugar and let the onions sauté uncovered and slightly caramelize, stirring every few minutes until they become a deep golden colour. Season with sea salt and freshly ground black pepper.
Pour in the beer and leave to simmer for 5 minutes before pouring in the beef broth. Let cook for a further 30 minutes.
Sprinkle the cheese on top of the slices of sourdough bread and pop under a grill or broiler to melt.
Serve the onion soup in heated bowls and place the toasted cheddar crouton bread on top. 
5. GUINNESS & PISTACHIO MOLTEN CHOCOLATE PUDDINGS
Makes 6
INGREDIENTS:
7 ozs dark chocolate (70% cocoa solids)
3 fl ozs Guinness
4 eggs, separated
4 ozs superfine sugar
2 ozs plain flour
1 oz butter
1 oz pistachios, very finely chopped
METHOD:
Pre-heat the oven to 360oF.
Melt the chocolate in a bowl suspended over a saucepan of simmering water.
While the chocolate is melting, whisk together the egg yolks, Guinness and sugar in a bowl. Then whisk in the melted chocolate, and fold in the flour.
In a separate bowl beat the egg whites until stiff and gently fold into the chocolate mixture.
I use china cups to bake my chocolate puddings in as they make it look that extra special and they don't break in the oven, but of course you could use ramekins. Grease the cups with butter and sprinkle the finely chopped pistachio all around the inside of the cup, holding back a little for the top of the puddings.
Pour the chocolate mixture into greased individual moulds, sprinkle the remaining finely chopped pistachios on top and bake in the pre-heated oven for 9-10 minutes.