As Canadians, we'll always have poutine (created in the '50s) but looking back on retro repasts, we discover that international cuisine also had a seat at the table.
The 1960s
Vive la différence! Out with can-opener casseroles, in with French cuisine, inspired by First Lady Jacqueline Kennedy's impeccable style and fondness for all things French, along with the arrival of celebrity chef Julia Child.
Similar to the French filet de bœuf en croute, Beef Wellington, an extravagant dish of beef smothered in foie gras or duxelles and baked in puff pastry, was standard upscale fare. Drinks were Mad Men cocktail bashes featuring Alexanders, Old Fashioneds and Stingers. And last but not least: Tim Horton doughnuts hit the scene. Need we say more?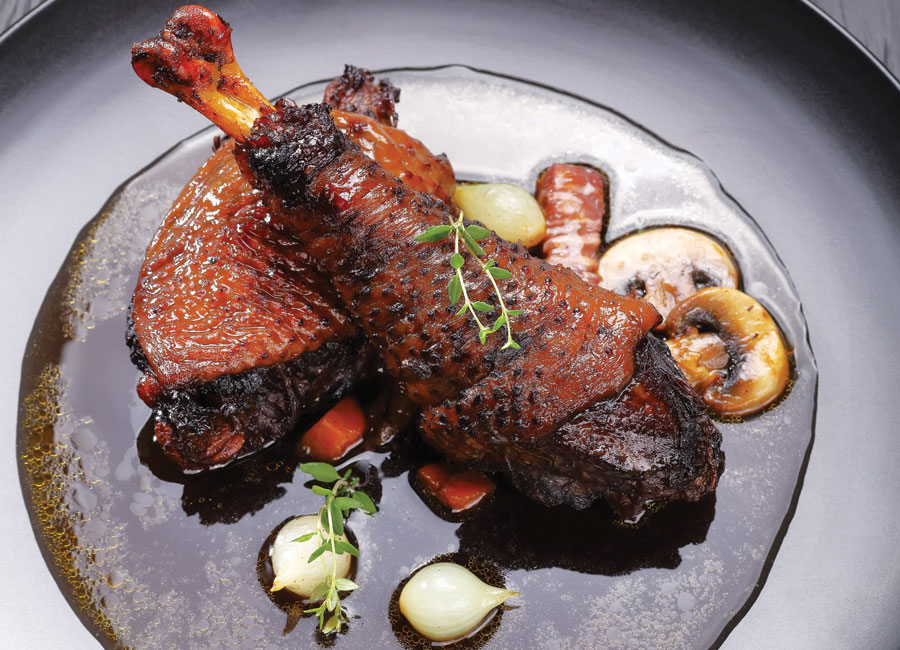 Dish of the Decade
Coq au Vin, the classic Burgundian dish of chicken braised in red wine, was one of the defining dinner party foods of the era and is still popular (as any one who watched the 2009 film starring Amy Adams and Meryl Streep, Julie and Julia, on repeat can attest).
The 1970s
Culinary cravings leaned toward country bistro fare, quiches, escargot, specialty pastas and Swedish meatballs. And sure, the invention of the crockpot made beef stew a weekday dinner staple. But it was the flambés and fondues that defined the era. As the flambé trend took hold at upscale restaurants, home cooks flung open their liquor cabinets and began igniting their own meats, omelettes, side dishes and even cocktails with rum, cognac, brandy and whisky. Needless to say, after people began setting fire to their hair, clothes and tablecloths, the trend fizzled. Not so the fondue.
Dish of the Decade
Mainly because the classic fondue combines three indisputably great things: Emmenthal and Gruyère cheeses melted with wine and served with crusty bread from a flame-lit communal pot. Meat, seafood, poultry and veggies
were also cooked up in hot oil or broth tableside and served with a variety of sauces. For dessert, fresh strawberries were dipped in rich bubbling chocolate.
The 1980s
Foodies shifted their gastronomic gaze toward Italy and began cooking up hearty dishes like risotto Milanese, vodka penne and pasta primavera salads, while spooning pesto on just about everything – all washed down with the drink of the moment: a wine spritzer, a breezy concoction of white wine, club soda and a twist of lemon. Spinach dip in a pumpernickel bread bowl was the appetizer of choice and, for dessert, the delicious decadence of chocolate truffles and crème brûlée. But in terms of a true gastronomic invasion, we look to the East.
Dish of the Decade
Sushi, a street food sold in Japan since the eighth century, came into its own thanks, in part due to the creation of the California roll after chefs realized the tamer crab and avocado combo was more palatable than raw fish to uninitiated North American palates.
The 1990s
The decade that ushered in Starbucks and gourmet flavoured vinegars saw more health-conscious gourmets turn toward organic produce and locally sourced foods. The Mediterranean diet was on the menu.
During an era of elevated cocktail culture, Sex and the City's Carrie Bradshaw made the Cosmopolitan (a blend of citrus-flavoured vodka, cranberry juice, triple sec or Cointreau and lime juice) the quintessential drink to wash down your pizza or panini filled with …
Dish of the Decade
Sun-dried tomatoes, which were virtually everywhere and on everything including fan and family favourite, bowtie pasta.
2000s
Japan continued to tempt our tastebuds with ramen, thanks to New York super chef David Chang. No longer that humble, highly processed staple of university dorms, instead, Chang's Momofuku Noodle Bar (named for the inventor of ramen) served a gourmet version, with steaming bowls of fresh artisan noodles in a flavourful ingredient-rich broth. Ironically, low-carb weight-loss diets like Atkins also took off, and people began ditching carbs and piling their plates with high-protein full-fat fare like bacon, red meat, butter, eggs and cheese.
Dish of the Decade
Hello, breakfast smoothies, and bye-bye, toast! People bought blenders in droves and started to drink their way to health – minus the alcohol content – with liquid mash ups of spinach, kale, raw egg, banana, yogurt, strawberries, wheatgrass and anything else on trend or in their fridge.
Warning: that's not a recipe, so don't try it at home.
2010s
With growing interest in veganism and plant-based eating, foodies stir up superfoods like kale, coconuts, broccoli, blueberries and quinoa but with a seemingly all-embracing infatuation with the nutrient-dense avocado – with avocado toast jumping the shark to become a millennial menu and Instagram cliché.Spicy foods, hummus, tapas, tacos, poke bowls, fermented and pickled veggies, meatless burgers, chicken waffle cones and all manner of food truck eats offer near endless variety to adventurous palates.
Dish of the Decade
The once humble cupcake was transformed from school bake sale staple to chic treat, thanks to Carrie Bradshaw's (yet again) obsession with Magnolia Bakery. Nearly 15 years later, cupcakes have been elevated to edible designs worthy of even weddings, all artfully presented, of course, for Instagram.