Modern Masters: The Essential Doris Lessing Reading List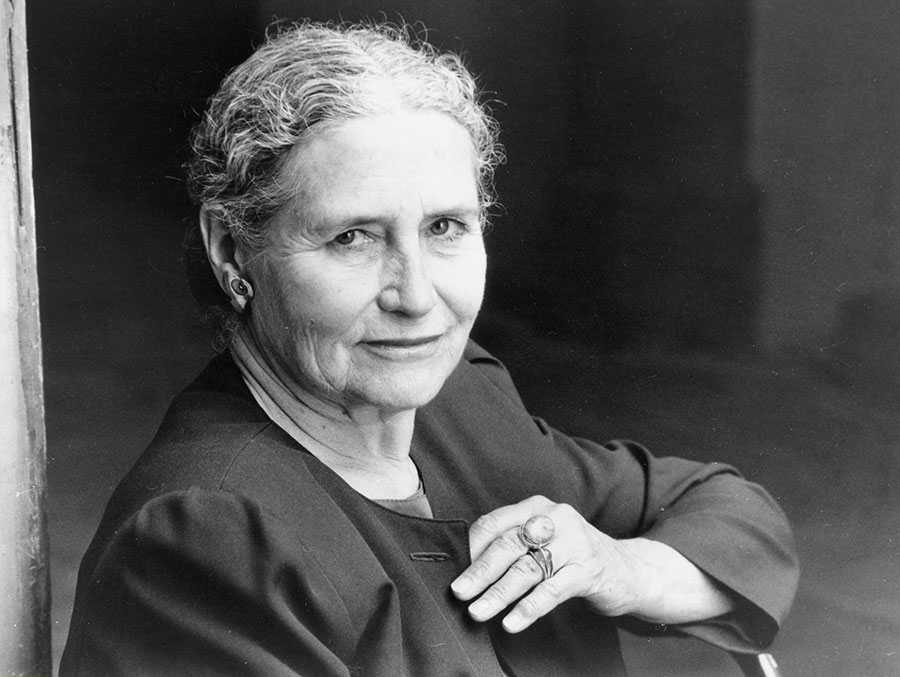 British writer Doris Lessing, who would have turned 101 on October 22, 2020. Photographed in 1990. (Photo: Schiffer-Fuchs/ullstein bild via Getty Images)
"I lived through Hitler, ranting and raving; Mussolini too; the Soviet Union, which we thought would last for all time; the British Empire, which seemed impregnable; the colour bar in Rhodesia and elsewhere; the heyday of European empires. It was inconceivable to think these would disappear. They seemed permanent. Now not one of them remains — and I think that that is a recipe for optimism." — Doris Lessing, who would have celebrated her 101st birthday on Oct. 22, 2020
With Doris Lessing's 2007 Nobel Prize in Literature, the British-Zimbabwean writer's literary legacy was firmly established. Eighty-eight at the time, she was (and remains) the oldest writer to ever win the prize. The Nobel committee described her as: "that epicist of the female experience, who with scepticism, fire and visionary power has subjected a divided civilisation to scrutiny." 
Her reaction to the Nobel win was memorable — and possibly one of the earliest literary news events to go viral.
"Oh Christ," she said when a reporter waiting outside her home shared the news as she carefully exited a taxi cab. "I'm sure you'd like some uplifting remarks of some kind … I've won all the prizes in Europe, every bloody one. I'm delighted to win them all, the whole lot.… It's a royal flush." 
In her prolific six decade-long career, Lessing won the Somerset Maugham Award, the WH Smith Literary Award, the James Tait Black Memorial Prize and the David Cohen Prize. Her work includes dozens of literary and science-fiction novels, memoirs, essays and poems — even a libretto for an opera adapted from her book The Making of the Representative for Planet 8, with music by Philip Glass.
As Margaret Atwood wrote in her touching tribute in The Guardian when Lessing died in 2013 at the age of 94: "If there were a Mount Rushmore of 20th-century authors, Doris Lessing would most certainly be carved upon it." 
To mark what would have been her 101st birthday today (Oct. 22), here is a roundup of some of her essential titles. 
Lessing famously arrived in London in the spring of 1949, twice divorced, with her two-year-old son, £20 and the manuscript of a novel. (Much has been made of her decision to leave her two children from her first marriage with their father in Zimbabwe, then colonial Rhodesia.)  Like much of her fiction, The Grass is Singing draws heavily on her life in Africa and is both domestic drama and social critique. It tells the story of Mary Turner, who must take over the running of a Rhodesian farm when her ineffectual husband falls sick. Under the cloud of the country's racial strife, Mary begins a doomed relationship with Moses, one of the farm's black servants. 
If Lessing is primarily thought of as a feminist writer, it is due to the The Golden Notebook. Also considered autobiographical in its inspiration, the story weaves together the four notebooks of Anna, a writer with one successful novel already published. These notebooks each focus on a different part of her life — Africa, the Communist Party, a doomed love affair and her journal — to create The Golden Notebook, which binds them all together. In its Nobel commendation, The Swedish Academy said the pioneering work "belongs to the handful of books that informed the 20th-century view of the male-female relationship." 
For her part, Lessing says (in an afterword in the latest edition) that she was "completely unconscious of writing a feminist book. I was simply writing what I saw." 
The first volume of Lessing's autobiography, published in 1994, begins with her childhood in Africa and ends on her arrival in London in 1949 with the typescript of her first novel, The Grass Is Singing, in her suitcase. In the memoir, Lessing maps the growth of her consciousness, sexuality and her politics.  
"Telling the truth or not telling it, and how much, is a lesser problem than the one of shifting perspectives, for you see your life differently at different stages, like climbing a mountain while the landscape changes with every turn in the path," Lessing wrote. "Now I look back at that child, that girl, that young woman, with a more and more detailed curiosity. Old people may be observed peering into their pasts, Why? — they are asking themselves. Why did that happen?" 
Under My Skin received the James Tait Black Prize (one of Britain's oldest literary awards) for best biography, as well as the Los Angeles Book Prize for biography.  
Walking in the Shade, Volume Two of My Autobiography, 1949-1962 
The second volume of Lessing's biography picks right up after her arrival in war-weary London and covers her early years as a published author. Evoking her days as a bohemian single mother and writer, it explores how communism dominated her early intellectual life and her eventual disillusionment with extreme and rhetorical politics. It also deals with the polarizing success of The Golden Notebook. 
'When I wrote it, I was not conscious of writing anything particularly inflammatory," Lessing says. "In all the political movements I had been involved in, I had been listening to women talking about women's issues and about men. Suddenly when I wrote down these private conversations, people were astounded. It was as though what women said didn't exist until it was written."
Time Bites 
Published in 2005, this essential title collects the best of Lessing's essays —some dating back to 1974 but most from the late 1990s and early 2000s. From book reviews and forewords to her own reissues to personal essays and discourses on the need for books in third-world countries, the broad and random topics illustrate Lessing's mental preoccupations. Published when the author was 86, it also contains more musings on aging. 
"The approach to old age, that Via Dolorosa, is presented to us as a long descent after the golden age of youth," Lessing writes. "But now start the delightful surprises. Best of all, not ever predicted nor, I think described, as fresh liveliness in experiencing. This must be what a very small child feels, looking out at the world for the first time: everything a wonder. Old age is a great reviver of memories, in more ways than one.'
Lessing's final book, Alfred and Emily, was published in 2008 and explores the lives of her parents, both of whom were irrevocably damaged by the First World War. To tell the story, she pairs the real account of their experiences with an imagined counter-history of what their lives might have been if the war had never happened. 
In its review, The New York Times says, "In its generosity of spirit, its shaped and contained fury, Alfred and Emily is also an extraordinary, unconventional addition to Lessing's autobiography. She's said she has written her last book (well, she has said a lot of silly things), but there isn't the slightest tone of valediction or summing up here. That's why she remains so vital: even in old age, she sounds as fierce and passionate as a girl."