She Made It After All: The Groundbreaking Legacy of 'The Mary Tyler Moore Show'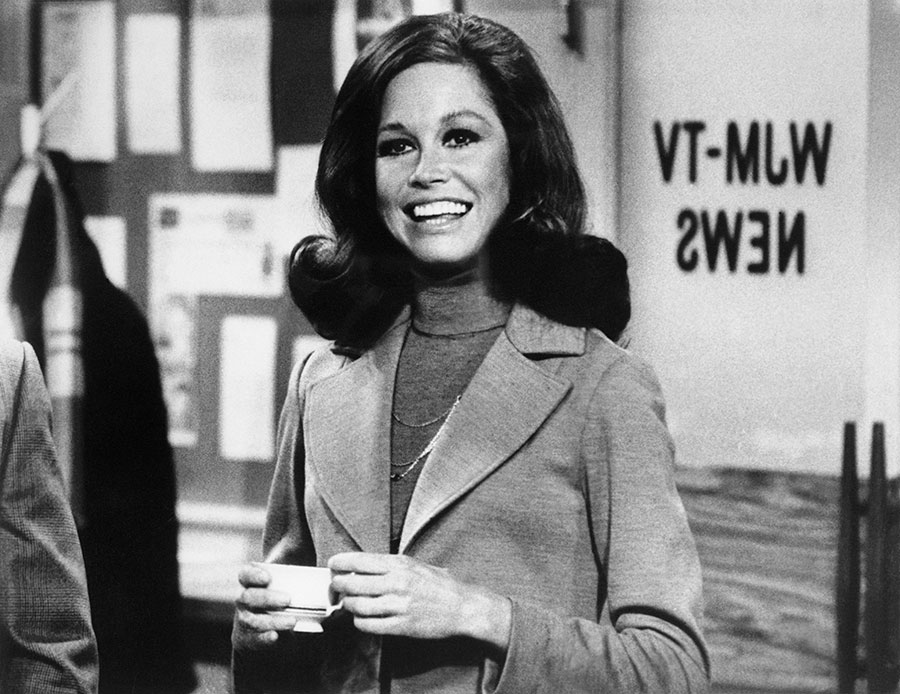 Moore on the set of her show during a scene in the WJM newsroom. Photo: Bettmann/Getty Images
In honour of the 50th anniversary of The Mary Tyler Moore Show (Sept. 19), we're revisiting our 2017 story on the sitcom's enduring legacy, originally written just after the passing of Moore at age 80.
"It's a quiet show. It doesn't shake the establishment by the roots or carry a banner for the new morality. But what an impact it has had!"
So begins a newspaper story in the July 6, 1973 edition of the Rome News-Tribune about The Mary Tyler Moore Show, at that point in its third season, which declares the sitcom, "took 20 years of pointless, insipid situation comedy and spun it on its heels … pioneered reality comedy and the establishment of clearly defined and motivated secondary characters."
Not bad for a quiet show. Though, in fairness, it was impossible, in 1973, to understand just how loud an echo the show, and Moore herself — who died on January 25, 2017 at age 80 — would produce in the coming decades. If I Love Lucy proved that women were not only funny but could carry a sitcom, The Mary Tyler Moore Show took it one step further, extracting women from the stay-at-home family dynamic altogether while pulling no punches in confronting cultural taboos.
On I Love Lucy, the married couple slept in separate beds and couldn't say the word "pregnant" on television. The Mary Tyler Moore Show, by contrast, boasted an unmarried woman in her 30s who made no bones of using birth control—a groundbreaking admission for a female sitcom character at the time. Mary, in some ways, was Lucy if Lucy left Ricky at home with Fred and Ethel and set out to fulfill the showbiz dreams she always harboured. And it's that independent spirit, embodied both by Moore and the television show that bore her name, that helped bulldoze and reshape the male-dominated television landscape for years to come.
"The Mary Tyler Moore Show began airing in 1970, but its DNA is still all over TV," a 2013 story in Salon noted. "It is the progenitor of every comedy starring a woman, single, working or otherwise—30 Rock's characterizations are closely modeled on Mary Tyler Moore's; Sex and the City took Mary Tyler Moore story lines and made them explicit—but also every workplace sitcom, every friends-as-family sitcom, and every sitcom aimed squarely at adults. So most comedies."
The Mary Tyler Moore Show's impact is best viewed through the cultural lens of the decade in which it hit the airwaves. In 1970s America, the times were already a changin'. The love and peace vibe of the 1960s proved a distant memory, the Beatles recorded their last tunes together, lawsuits over damages from the Woodstock Festival were piling up and the fatal shootings at Kent State heightened tensions around the U.S. involvement in the Vietnam War. For women, in particular, by the time The Mary Tyler Moore Show debuted, a major cultural shift had already been set in motion.
"America was in the middle of the women's rights movement; The Feminine Mystique, released in 1963, urged women to envision work outside the home, touching a nerve for housewives. The Pill became available to all women, regardless of martial status, in 1972. And more and more women were earning degrees and setting off to find jobs," recalls a story in The Atlantic, which points out the sitcom represented "the first time in television history when a woman's perspective was not only highly regarded, but crucial to the success of the show."
Moore's own desire to play an original, fun character offered opportunities to push the envelope according to author Jennifer Keishin Armstrong, who wrote the book Mary and Lou and Rhoda and Ted: And All the Brilliant Minds Who Made The Mary Tyler Moore Show a Classic, in the New York Times. "That character also happened to be single, female, over 30, professional, independent, and not particularly obsessed with getting married. Mary had America facing such issues as equal pay, birth control, and sexual independence way back in the '70s."
Meanwhile, behind the scenes a different sort of women's revolution was brewing—female writers, for the first time, taking significant roles in a television writing room. "In 1973, 25 out of 75 writers on the show were women, which was revolutionary at the time," The Atlantic notes, including some who went on to television executive positions. "Never were there so many women writers on a single comedy sitcom … for the first time ever, these [sitcom] women were real. They had hopes, dreams, and ambitions—just like the women who created them."
As well, years earlier Moore herself parlayed her Emmy-winning run on The Dick Van Dyke Show into a production company—MTM Enterprises, Inc., founded with her husband, Grant Tinker, in 1969—and, much like Lucille Ball and Desi Arnaz did in 1950, produced her own sitcom. She also produced three Mary Tyler Moore Show spinoffs—Rhoda, Lou Grant and Phyllis—all based around characters from the show, as well as legendary programs like The Bob Newhart Show, Hill Street Blues, St Elsewhere and WKRP in Cincinnati among others.
For Moore's part, in a 1973 interview she noted she viewed the show as, simply, "about people who have everyday problems with which they have to cope. But I think the approach to comedy writing is changing. Subjects that were taboo are open. Now you can make jokes about homosexuality and menopause. We'll make jokes about them. It's just that we don't want to be known for doing those things."
It's ironic, then, that one of the greatest legacy's Moore and her show leave behind is that it did push those boundaries. And, of course, the famed "Chuckles Bites the Dust" episode, a character-breaking laugh-fest about a dead clown cited by many as one of the greatest sitcom episodes ever produced.
Long after The Mary Tyler Moore Show ended it's seven-season run, Moore herself continued to inspire, earning awards and honours for work ranging from the big screen to Broadway. In the mid-1990s, Moore revealed her struggles with alcoholism.
"I am glad I was able to be a kind of role model for other women who identified with my ladylike qualities, who were then able to say, 'Well, if Mary can admit she had a problem with alcohol, then maybe I can too,'" she said.
Moore's smile may have turned on the world, as the theme song goes, but it was her courage, determination and talent, both on screen and off, that helped change it for the better.